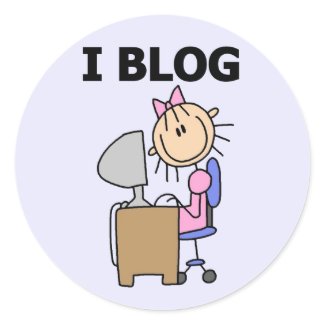 "With 3 years experienced as a blogger, eHow writer and a product designer in Zazzle, I am getting better and better in this venture".
Looking back to my newbie days, I have learned so many things and I wanted to document it in this blog as a memo to myself, to my friends and to someone out there who are taking the same trail as I did. If I wanna make another blog and plan to monetize it for upfront and residual earnings and if I will be asked which of the two is my priority, I prefer to blog for residual earnings.
"Write, write, write or read, read , read or work, work, work TODAY and Reap the fruits of your Labor Tomorrow. " I know it is the sweetest gift for your self and family in the END.
I started blogging since 2008. It was really hard as an English as a Second Language Blogger. During those days, I need to re-read my posts as many times as possible for grammar and spelling or else my post will be rejected by advertisers. But in a long run, I am getting better and better in this venture. Reading and joining forums for writers help me a lot as I learned that they too need to re-read and review their articles for the same reason. Now, I am motivated to do better than my best. I am not afraid to try everything and learn from my mistakes. I am also confident to mentor newbies in blogging if they ask for help.
Did you know how much I earned in blogging since 2008?
I joined at least 3 paid blogging sites and I earned at least $2000 with them per year.

I joined two contest: learning video making and blog about it first prize $500 and $5000 from Godaddy.com for trying one of their products called Smartspace and make a blog entry about it. (I have links to prove these.)
Below are some of my blogging strategies and goals for 2011:
Develop a blogging post format:
Contents must be at least 200 – 300 words. It's funny because, it looks like it will give me a hard time in creating posts but as I try to start typing and I was surprised how some ideas just flowed or popped up in my thoughts. Have you experienced it? As for me, I noticed it since I started following my blogging outline. It's very easy to connect ideas if we add more life to our blog post. It's not just all block of text.
Blog with Search Engine Optimization for a better ranking in Google and Traffic.
Add related image/images. Respect copyrights. Use free cliparts or photos. Or I will sign up to photo affiliate program related to my post/s and at the same time I will also earn a commission when someone purchases like Allposters.com, Zazzle.com product images and much more.
Embed or add related videos from Youtube, Dailymotions, etc. This is really effective if you have a how-to topic. Resize player if you wish. Edit it after you copy and paste HTML or Javascript code. Look for the length and width, then save.
Highlight, enlarge, resize text or fonts appropriately. This will give your post an attractive look and not just plain text.
Recommend products or books from Amazon (apply for Associate), Commision Junction, etc.
Add appropriate Add-ons or plugins like easy share buttons.
Add affiliate links and banners. Google Adsense, Adbrite, infolinks, etc. But do not overdo it.
If you will add referral links, be honest, enclose it in a parenthesis.
At this point, my earnings are least $200 per month. I did well in residual income like eHow, squidoo and zazzle while paid blogging is just a bonus and I will not count it as my passive income because it is not regular. See samples of my articles integrating all the strategies above in my squidoo profile below:
Look at the image in this post above, click it and it will lead you to the store link of that product, if someone buys it, I will get 15% sale commission. It's a great earning potential in
zazzle. You only have to create designs or refer their products. But the best part of it is that you can use the image in your website without any copyright violations.
In order to achieve my goals, I set a weekly review of my all my posts (for that week) and edit it implementing my strategies above. Sometimes, I did daily tweak for my eHow articles and still found some errors that needs to be corrected. I also join a writing forum and request them to critique any of my articles and in return I will also visit their post and critique them. I have a notebook to note my online earning updates. Aside from regular tweaking, posting more Quality articles is one of keys to success in writing online. My target is to post at least 3 articles per week for my residual sites. Promote each articles to sites like Redgage and shetoldme (pay per view), blogs, forums, etc. Use original contents and be helpful since Google has changed its algorithm and will kill sites that copy and paste contents.
I am still encouraging everyone to keep writing and be successful and don't forget to connect to your neighbors and help one another.
The bottom line is "What can we offer to our readers?" They are most important part in our blog posts. Our success in this venture lies on them.
Please don't forget to FB LIKE above, if you like this post or leave a message. Thank you guys!